---
OnCore and PGA HOPE Partner Together
OnCore and PGA HOPE are launching their first co-branded product. And with your support, $5 from every dozen sold is returning to PGA HOPE. PGA HOPE helps veterans recover by teaching them the great game of golf.
HOPE stands for "Helping Our Patriots Everywhere." We are so proud to team up, as this is PGA HOPE's first co-branded product nationally. Chirs Nowak, PGA HOPE founder, came up with the saying, "It Takes A Nation to Heal a Veteran."
---
PGA HOPE
PGA HOPE (Helping Our Patriots Everywhere) is the flagship military program of PGA REACH, the charitable foundation of the PGA of America. PGA HOPE introduces golf to Veterans and Active Duty Military to enhance their physical, mental, social and emotional well-being.
The program introduces the game of golf through a developmental 6-8 week curriculum, led by PGA Professionals trained in adaptive golf and military cultural competency. All programs are funded by PGA REACH and supplemented by PGA Section Foundations, so the cost of programming is free to all Veterans.
PGA HOPE has a Memorandum of Understanding (MOU) with the Department of Veterans Affairs (VA), which enables direct referrals to the PGA HOPE program as a form of therapy.
GOLF EQ INDEPENDENT TESTING
VERO X1 VS. TITLEIST®
The four-piece VERO X1 went head-to-head with both iconic balls and outperformed the dynamic duo in Golf EQ's driver and iron testing. It also finished atop the composite rankings with a total Golf EQ score of 372.68 versus 350.83 for ProV1® and 362.26 for ProV1x®.
How about that dreaded side-spin that derails so many tee shots?  The VERO X1 delivers decidedly less of it – over 60% less– resulting in significantly straighter drives.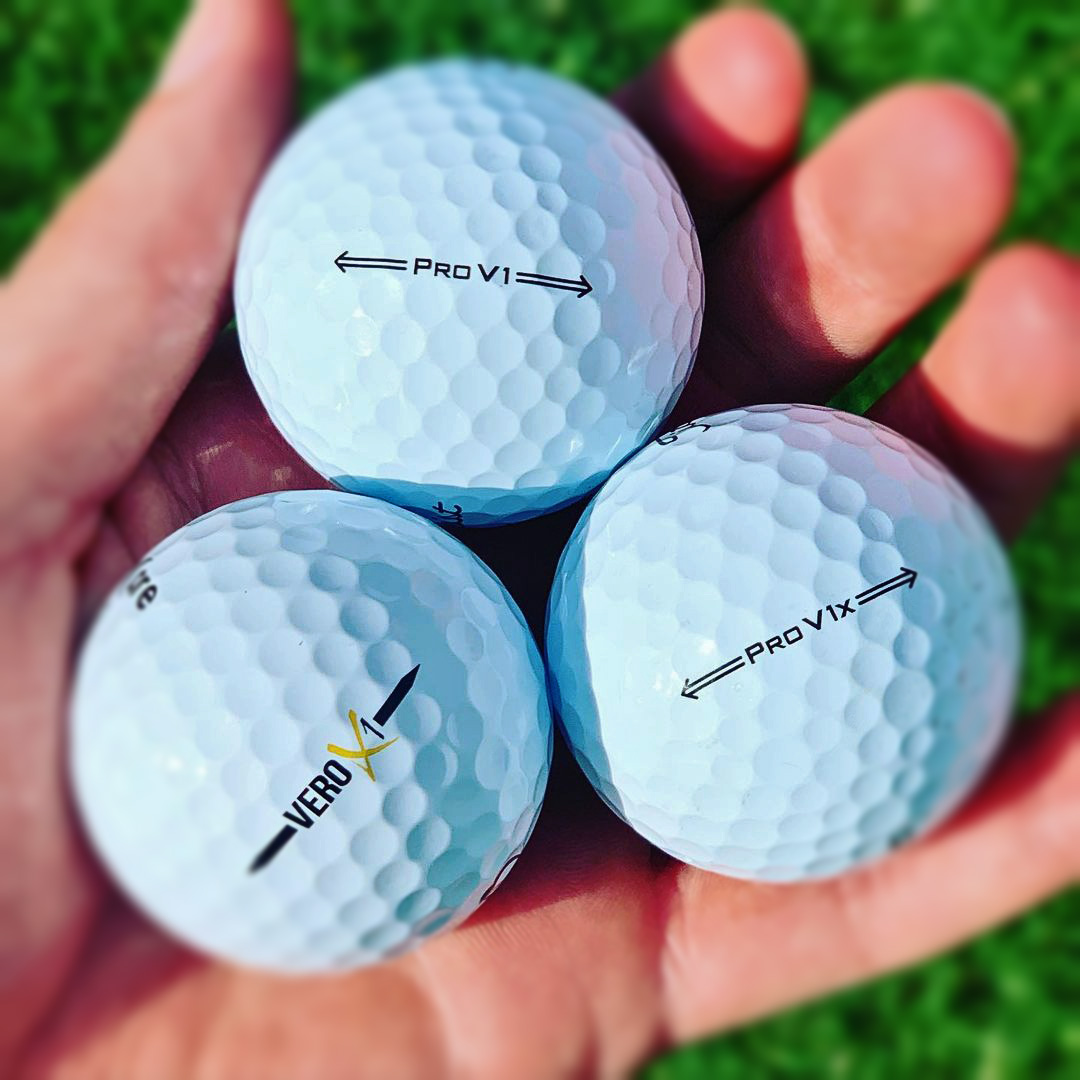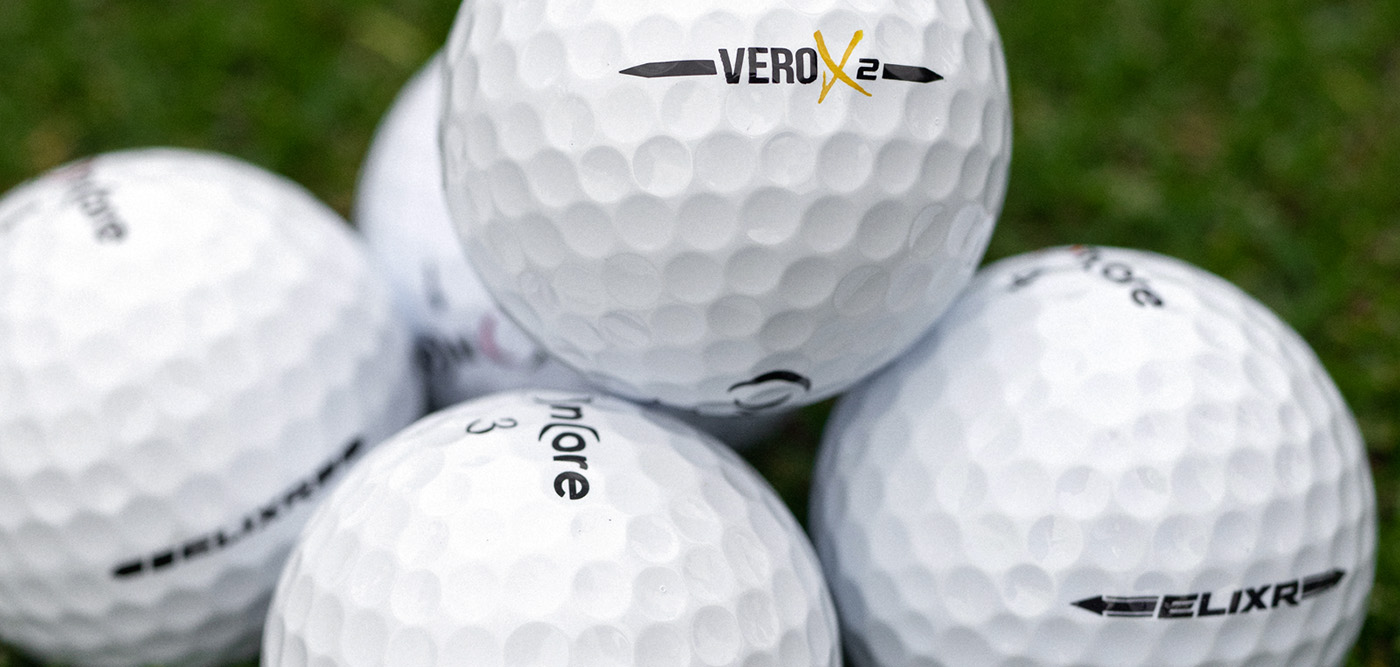 BALL FITTING
ONLINE BALL FITTING
Dial-in your game with the perfect ball for your swing. Which OnCore ball is best for you? Take our online ball fitting assessment and we'll recommend the right ball for you. Receive $10 OnCore Cash for your first purchase and order today!

NEW CUSTOMERS ONLY. EXCLUDES LOYALTY.
---
COMPARE BALLS
LAYERS
COMPRESSION
COVER
DIMPLE
LAUNCH ANGLE
SWING SPEED
FEEL
DRIVER SPIN
WEDGE SPIN
LAYERS:

4-PIECE

COMPRESSION:

95

COVER:

CAST URETHANE

DIMPLE:

318

LAUNCH ANGLE:

HIGH

SWING SPEED:

100 PLUS

FEEL:

FIRMER

DRIVER SPIN:

LOWEST

WEDGE SPIN:

HIGH
LAYERS:

4-PIECE

COMPRESSION:

85

COVER:

CAST URETHANE

DIMPLE:

318

LAUNCH ANGLE:

HIGH

SWING SPEED:

100 PLUS

FEEL:

FIRM

DRIVER SPIN:

LOWER

WEDGE SPIN:

HIGH
LAYERS:

3-PIECE

COMPRESSION:

84

COVER:

URETHANE

DIMPLE:

350

LAUNCH ANGLE:

MID

SWING SPEED:

85-100

FEEL:

SOFT

DRIVER SPIN:

LOW

WEDGE SPIN:

HIGH
LAYERS:

3-PIECE

COMPRESSION:

80

COVER:

CAST URETHANE

DIMPLE:

318

LAUNCH ANGLE:

MID TO HIGH

SWING SPEED:

80-95

FEEL:

SOFT

DRIVER SPIN:

LOW

WEDGE SPIN:

HIGHER
LAYERS:

2-PIECE

COMPRESSION:

55

COVER:

SURLYN BLEND

DIMPLE:

392

LAUNCH ANGLE:

HIGH

SWING SPEED:

60-80

FEEL:

SOFTEST

DRIVER SPIN:

MID

WEDGE SPIN:

MID