SHOP AWARD-WINNING GOLF BALLS
UNMATCHED DISTANCE AND CONTROL
OnCore golf balls cover the full spectrum of spin, trajectory and compression to ensure your golf game is completely dialed in.
VERO X2
$42.99/doz.
FOR ADVANCED TO TOUR LEVEL PLAYERS
4-Piece, Cast Urethane | 95 Compression

Optimized for golfers with high swing speeds who want total control around the greens.
VERO X1
$40/doz.
FOR INTERMEDIATE OR ADVANCED PLAYERS
4-Piece, Cast Urethane | 85 Compression

Topped Titleist Pro V1® and Pro V1x® in tests by Golf EQ with 60% less sidespin.
ELIXR 2022
$30/doz.
INTERMEDIATE OR ADVANCED PLAYERS
3-Piece, Urethane Blend | 84 Compression

Enhanced feel around the greens and added distance with more accuracy off the tee.
ELIXR
$30/doz.
INTERMEDIATE OR ADVANCED PLAYERS
3-Piece, Urethane Blend | 80 Compression

The perfect feel around the greens and added distance with accuracy off the tee.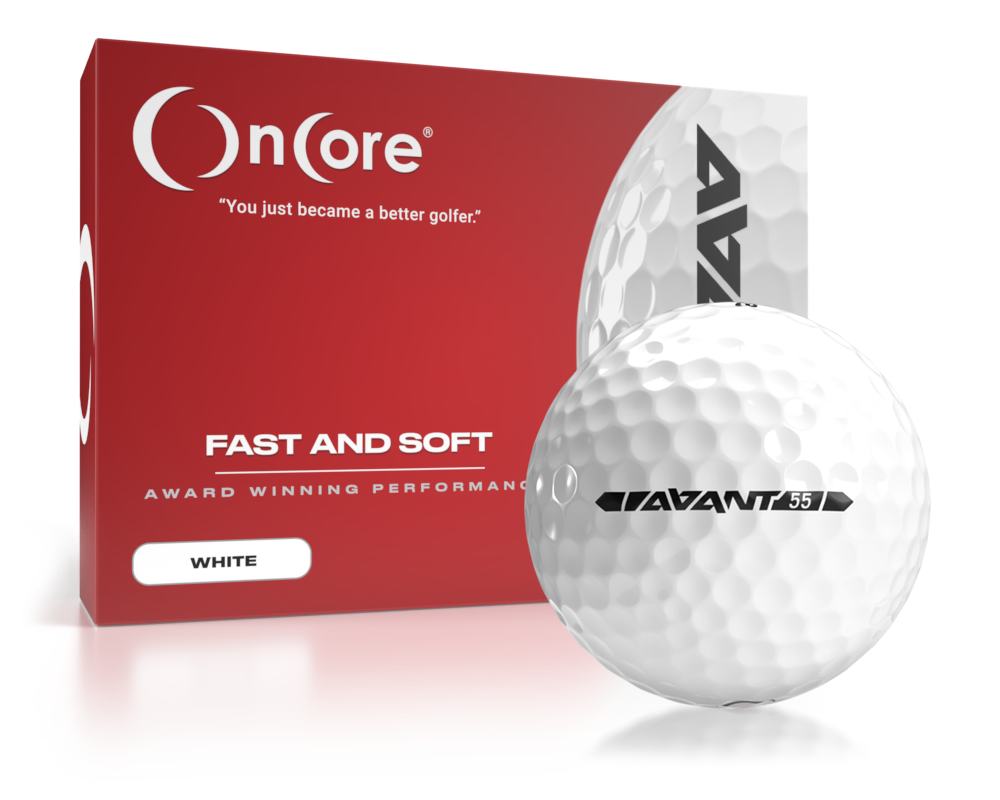 AVANT 55
$20/doz.
BEGINNER LEVEL, SLOWER SWING SPEEDS
2-Piece, Surlyn blend | 55 Compression

Softer distance ball that won't break the bank and perfect golf ball for cold-weather rounds.
---
HOLIDAY GIFTS FROM ONCORE
GIFT CARDS SPECIAL OFFER
Not sure what to get the golfer that has everything? Give an OnCore Golf Gift Card and let them choose! Purchase a $65 gift card for $50, a $100 gift card for $75, or a $140 gift card for $100. You spend less and they can shop more! Holiday Gift Cards will be active for use starting December 25th!
GET $10 OFF YOUR FIRST DOZEN
ONLINE BALL FITTING
Dial-in your game with the perfect ball for your swing. Which OnCore ball is best for you? Take our online ball fitting assessment and we'll recommend the right ball for you. Receive $10 OFF first purchase and order today!

NEW CUSTOMERS ONLY. LIMIT ONE PER CUSTOMER.
OFFICIAL ONCORE GEAR
SHOP ALL GEAR
Order the New Official OnCore "Varsity" Cooler and Duffle Bag, perfect for golfing or any other outdoor activity – Get yours while available, for a limited time! If you're already set, check out all our Official OnCore Gear!
SPECIAL CHARITY DOZEN
PGA HOPE SPECIAL RELEASE
OnCore and PGA HOPE are proud to release the Special Edition Golf Balls and with your support, $5 from every dozen sold is returning to PGA HOPE! Choose from AVANT 55, ELIXR, VERO X1 or X2. Help us honor our heroes with each and every purchase!
INNOVATION OUTPERFORMS
Over the years drivers, irons, wedges, have all evolved to perimeter-weighted designs, OnCore was the first to do it in golf balls, leading to a higher MOI "moment of inertia" golf ball which means straighter and longer shots.
GOLF EQ INDEPENDENT TESTING
VERO x1 vs. TITLEIST®
AWARD WINNING Technology
Our proprietary perimeter weighting technology is engineered with advanced materials and nanotechnology to deliver smart golf balls with a high moment of inertia.
As Seen On
ENJOY ALL THE CLUB PERKS
CLUB ONCORE GETS YOU MORE FOR LESS
We've launched Club OnCore! Join and become a club member today to get preferred pricing, free shipping, free customization, special offers and exclusive access to partner deals. Annual membership comes with your favorite award-winning golf balls at no cost, plus much more. Sign up today and enjoy the perks!
---