Term and Conditions
Cancellation Policy
Cancellation of any order must occur within 24 hours from the time the order was placed. A $10 cancellation processing fee will be charged for all cancelled orders. All refunds will be issued in the same form payment was made.
Copyright and Trademark Notice
Unless otherwise specified, all materials appearing on this site, including the text, site design, logos, graphics, icons, and images, as well as the selection, assembly and arrangement thereof, are the sole property of OnCore Golf, Copyright © 2021, ALL RIGHTS RESERVED. You may use the content of this site only for the purpose of shopping on this site or placing an order on this site and for no other purpose. No materials from this site may be copied, reproduced, modified, republished, uploaded, posted, transmitted, or distributed in any form or by any means without our prior written permission. All rights not expressly granted herein are reserved. Any unauthorized use of the materials appearing on this site may violate copyright, trademark and other applicable laws and could result in criminal or civil penalties.
Custom Golf Balls | Customization

All OnCore Golf balls are marked with corporate branding and company logo, and therefore indirectly "connected" and/or presumed "supportive" to the custom messaging or images printed on our golf balls and may be held liable. Therefore, all pornographic or sexually explicit material is not permitted. Any political party messaging, discrimination of any person(s) by race, color, national origin, gender, or religion, and hate speech of any kind is not permitted. Additionally, any images or text with content that is political, defamatory, libelous, disruptive, threatening, invasive of a person's privacy, harmful, abusive, harassing, obscene, hateful, or racially, ethnically, or otherwise objectionable; or that otherwise violates any law or infringes any person or entity's intellectual property rights (including but not limited to, patent, trademark, trade secret, copyright, or other intellectual property right) is not permitted. If submitted, OnCore Golf reserves the right not to print and decline any/all order(s) placed, and will provide a full refund to the customer(s).
OnCore Golf reserves the right to refuse any explicit text, images (written or implied), or any artwork and designs that do not comply with all laws governing copyrights and trademarks.
OnCore Golf appreciates the diverse viewpoints of all employees, partners, customers and Team OnCore members. As such, customizations with political slogans, messaging, logos, artwork, etc. are prohibited.
Credit Cards
We accept the following credit cards: Visa, MasterCard, and Discover. There is no surcharge for using your credit card to make purchases. Please be sure to provide your exact billing address and telephone number (i.e. the address and phone number your credit card bank has on file for you). Incorrect information will cause a delay in processing your order. Your credit card will be billed upon shipment of your order.
Links
This site may contain links to other sites on the Internet that are owned and operated by third parties. You acknowledge that we're not responsible for the operation of or content located on or through any such site.
Multiple Product Orders
For a multiple product order, we will make every attempt to ship all products contained in the order at the same time. Products that are unavailable at the time of shipping will be shipped as they become available, unless you inform us otherwise. You will only be charged for products contained in a given shipment, plus any applicable shipping charges. You will only be charged for shipping at the rate quoted to you on your purchase receipt. The entirety of this shipping charge may be applied to the first product(s) shipped on a multiple shipment order.
Online Payments
We accept payments in U.S. Currency only.
Coupons
Only one coupon is allowed during checkout. Coupon used cannot be used in conjunction with other coupons.
Order Acceptance Policy
Your receipt of an electronic or other form of order confirmation does not signify our acceptance of your order, nor does it constitute confirmation of our offer to sell. OnCore Golf reserves the right at any time after receipt of your order to accept or decline your order for any reason or to supply less than the quantity you ordered of any item.
Other Conditions
These Conditions will supersede any terms and/or conditions you include with any purchase order, regardless of whether OnCore Golf signs them or not. We reserve the right to make changes to this site and these Conditions at any time.
Out-of-Stock Products
We will ship your product as it becomes available. Usually, products ship the same day if ordered by 5:00PM , or by the next business day if your order is received after this time and for orders received on Saturday, Sunday or any major holiday. However, there may be times when the product you have ordered is out-of-stock which will delay fulfilling your order. We will keep you informed of any products that you have ordered that are out-of-stock and unavailable for immediate shipment. You may cancel your order at any time prior to shipping.
Loyalty
With the OnCore Loyalty program, loyalty members achieve increased benefits, including higher discounts on purchases. Members can earn loyalty, when they purchase on oncoregolf.com. Save more on regularly priced products. Tier 1 – Birdie level: 10% discount on purchases, when members spend $250. Tier 2 – Eagle level: 20% discount on purchases, when members spend $500. Tier 3 – Albatross level: 25% discount on purchases, when members spend $1,000. Loyalty does not apply to promotions, bundles, select custom orders or gift cards.
Promotions
Click here for current promotion(s) and all details.
Promotions, "Promo" or "Coupon" Codes, cannot be combined with any other sale, promotion, discount, code, coupon and/or offer. Promotions have no cash value. Promo Codes cannot be applied to Bundle Offers, Custom Golf Balls, Gift Cards or select Special Offers and Promotions. See specific product page(s) for further details or exclusions).
Promo codes may expire and are subject to change without notice. Other exclusions may apply. See Promotions page for details and updates.
Club OnCore
Club OnCore or Club OnCore Plus members will receive pricing discounts equivalent to the current Birdie and Albatross levels, respectively. In addition, all of the new benefits – free shipping, free customization, partner deals, and the very generous free gifts with your paid membership – are not available with the Loyalty program alone. This program is intended to elevate the benefits available to our members, so previous loyalty is not combined with Club OnCore benefits.
Annual Subscription:
The membership entitles you to one full year of benefits and deals. There is no auto-renewal, so you will have the option to renew roughly thirty days before your membership expires. Due to the value of the free gifts we offer at sign-up, there are no refunds.
Monthly Subscription:
Subscriptions can be cancelled at anytime after the first three months.
Privacy
We keep your personal information private and secure. When you make a purchase from our site, you provide your name, email address, credit card information, address, phone number, and a password. We use this information to process your orders, to keep you updated on your orders and to personalize your shopping experience. Our secure servers protect your information using advanced encryption techniques and firewall technology.
To keep you informed about our latest offers, we may notify you of current promotions, specials and new additions to the Sample Store site. You may unsubscribe from our newsletters by following the unsubscribe instructions in any email you receive from us.
When entering any of our contests or prize drawings, you provide your name, email address and mailing address. If you win, we will send the prize to the address entered and notify you by email. When you enter a contest or drawing you are also included in our newsletter list to receive notice of promotions, specials and new additions to the Sample Store site. You may unsubscribe from this news list by following the unsubscribe instructions in any email received.
We use "cookies" to keep track of your current shopping session to personalize your experience and so that you may retrieve your shopping cart at any time.
Privacy on Other Web Sites
Other sites accessible through our site have their own privacy policies and data collection practices. Please consult each site's privacy policy. OnCore Golf is not responsible for the actions of third parties.
Returns & Refund Policy
We will gladly accept the return of products that are defective due to defects in manufacturing and/or workmanship for 30 days from the date of purchase. Fulfillment mistakes that we make resulting in the shipment of incorrect product to you will also be accepted for return 30 days from the date of purchase. We are happy to provide a MONEY BACK GUARANTEE and FULL REFUND to our customers for any defective product, crediting the purchaser the full amount back to the credit card used to make the purchase.
Shipping Policy 
Shipping Time — Most orders received before 5:00PM will ship the same day, provided the product ordered is in stock. Most orders received after 5:00 PM will ship the next business day. Orders are not processed or shipped on Saturday or Sunday, except by prior arrangement. We cannot guarantee when an order will arrive. Consider any shipping or transit time offered to you by Sample Store or other parties only as an estimate. We encourage you to order in a timely fashion to avoid delays caused by shipping or product availability.
Taxes
OnCore Golf shall automatically charge and withhold the applicable sales tax for orders to be delivered to addresses within the same state. For orders shipped to other states, you are solely responsible for all sales taxes or other taxes.
Typographical Errors
In the event a product is listed at an incorrect price due to typographical error or error in pricing information received from our suppliers, OnCore Golf shall have the right to refuse or cancel any orders placed for product listed at the incorrect price. OnCore Golf shall have the right to refuse or cancel any such orders whether or not the order has been confirmed and your credit card charged. If your credit card has already been charged for the purchase and your order is canceled, OnCore Golf shall immediately issue a credit to your credit card account in the amount of the incorrect price.
UPDATED: November 2, 2020
++
Mobile Program Terms of Service
OnCore Golf Technology
Mobile Message Service Terms and Conditions
Last updated: September 9, 2021
The OnCore Golf mobile message service (the "Service") is operated by OnCore Golf Technology, Inc. (" OnCore Golf ", "we", or "us"). Your use of the Service constitutes your agreement to these terms and conditions ("Mobile Terms"). We may modify or cancel the Service or any of its features without notice. To the extent permitted by applicable law, we may also modify these Mobile Terms at any time and your continued use of the Service following the effective date of any such changes shall constitute your acceptance of such changes.
We do not charge for the Service, but you are responsible for all charges and fees associated with text messaging imposed by your wireless provider. Message and data rates may apply.
Text messages may be sent using an automatic telephone dialing system or other technology. Your consent to receive autodialed marketing text messages is not required as a condition of purchasing any goods or services.
Promotional messages: promotions, specials, and other marketing offers from OnCore Golf will be sent via text messages through your wireless provider to the mobile number you provided. Message frequency varies.
US ONLY: Text the single keyword command STOP in any text message to cancel at any time. You'll receive a one-time opt-out confirmation text message. If you have subscribed to other OnCore Golf mobile message programs and wish to cancel, except where applicable law requires otherwise, you will need to opt out separately from those programs by following the instructions provided in their respective mobile terms.
For Service support or assistance, text HELP to any received SMS message or you can email anytime: [email protected].
We may change any short code or telephone number we use to operate the Service at any time and will notify you of these changes. You acknowledge that any messages, including any STOP or HELP requests, you send to a short code or telephone number we have changed may not be received and we will not be responsible for honoring requests made in such messages.
The wireless carriers supported by the Service are not liable for delayed or undelivered messages. You agree to provide us with a valid mobile number. You agree to maintain accurate, complete, and up-to-date information with us related to your receipt of messages.
To the extent permitted by applicable law, you agree that we will not be liable for failed, delayed, or misdirected delivery of any information sent through the Service, any errors in such information, and/or any action you may or may not take in reliance on the information or Service.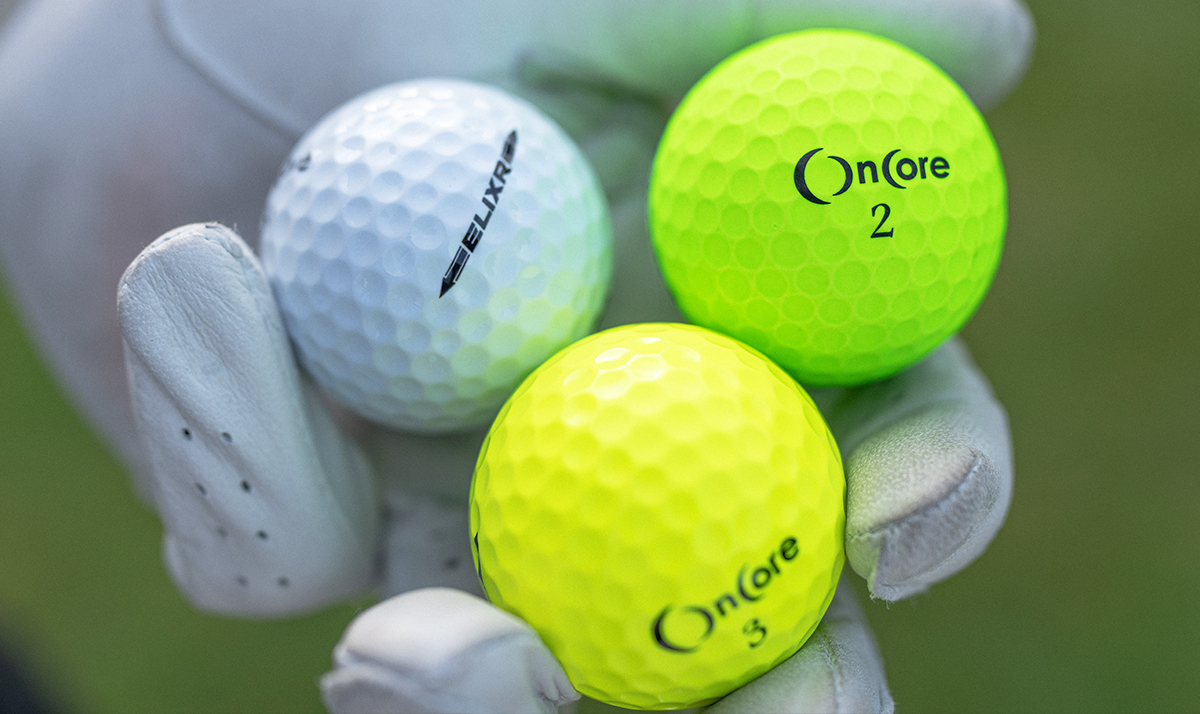 ELEVATING THE GAME OF GOLF
FOCUSED ON PERFORMANCE
OnCore Golf provides premium, high performance golf balls for all skill levels. The VERO X1 is like no other ball on the market and we are incredibly proud. The positive reviews keep coming in, and we thank our customers for all their support! Great things to come and help us continue to spread the word. Become a Better Golfer.
BALL FITTING
ONLINE BALL FITTING
Dial-in your game with the perfect ball for your swing. Which OnCore ball is best for you? Take our online ball fitting assessment and we'll recommend the right ball for you. Receive $10 OnCore Cash for your first purchase and order today!

NEW CUSTOMERS ONLY. EXCLUDES LOYALTY.