Are OnCore Golf balls USGA and R&A conforming?
Yes.  While we're always looking to push the limits of golf ball design and performance, all of our models are USGA and R&A conforming and appear on the USGA list of conforming golf balls.
Can I pick up in person at your Buffalo, NY Headquarters?
Yes, however at this time, we can coordinate with customers by appointment only. We are located at 19 Elm Street, on the 5th floor, in downtown, Buffalo New York. Please email info@oncoregolf.com to schedule your pickup date and time. We look forward to meeting you.
Can I customize/personalize golf balls?
Absolutely. Our customers can customize golf balls online. We love to do custom logos and text for you. However, if you are looking to change the actual number on the ball, we don't offer that at this time (our balls come with standard #'s 1-4). For more info on larger orders of personalized or custom logo balls, complete and submit our form for a custom quote on golf balls.
I have a slower swing speed, which ball is right for me?
Generally our super soft low compression AVANT 55 golf ball is a great choice for slower swing speeds. If you are looking for a tour caliber ball our ELIXR ball was voted by MYGOLFSPY as one of the fastest, lower compression tour balls in golf. However, we encourage you to take our online ball fitting to find out. It only takes a few minutes and can be found here.
I own a pro shop or golf shop and would like to sell OnCore Golf balls.
Please email us at info@oncoregolf.com.
What is your return policy?
OnCore stands 100% behind the quality of all of our products. If, for whatever reason, you are not satisfied, we will offer a full refund. 
What is your shipping policy?
We offer FedEx 5-8 day shipping on most orders, some larger orders may go FedEx ground service, with potentially longer timelines due to the COVID-19 pandemic. This offer is only available to US Residents and excludes Hawaii and Alaska. Rates begin at $8.95 per order (US only). We ship to Canada and around the world as well. Rates will vary. Outside of the US? At this time, we rely on FedEx international pricing and we are working on expanding fulfillment centers outside of the US. Custom golf ball orders typically ship out between 7-10 days, depending on the quantity ordered.
Do you offer a Military Discount? 
Yes, OnCore supports its active military and veterans by automatically enrolling them at our EAGLE level in our loyalty program (20% savings for life) after registering online. This is normally a $500 value but for veterans and active military you can sign-up here at no cost and let the savings begin. Thank you for your service and support of OnCore.
Do you offer a referral program?
We have recently added a referral program. For every friend or family member that signs up and makes a purchase, you receive $10 dollars in OnCore cash that can be used for purchases on our online store. Your referral will receive $10 dollars off their first purchase as an incentive to try OnCore balls so it's a win-win for everyone! Thanks for spreading the word about OnCore and helping us grow.
What compression is each model?
AVANT 55 – the name says it all, a 55 compression, super soft and long, 2 piece surlyn cover. Check out the AVANT 55 ball here.

ELIXR – 80 compression, considered by MYGOLFSPY to be one of the lowest compression tour balls that didn't loose ball speed- in other words you get the best of both worlds, soft feel and great distance. Check out the ELIXR here.

VERO X1 – 85 compression, fast swing speeds can really lean into our newest tour ball and experience explosive distance with phenomenal spin numbers off the driver, irons and wedges. Check out the VERO X1 here.
Do you offer a trial pack?
At this time, we offer a quick online ball fitting to help you determine the best ball for your game. Once you have completed the online assessment and are fitted with the right ball for your game, you will receive $10 Off your first purchase of a dozen.
Return Policy
We offer a 30-day hassle-free return policy on all apparel and accessories (see golf ball return policy below) purchased from our site. To be eligible for a return or exchange, the product must be received by us within 30 days from when it was delivered to the customer. Apparel and accessories must be in new condition, unused, unwashed, and with their original tags still attached. 
 
OnCore understands that finding the right golf ball for your game requires playing and testing that ball (or a series of balls) on the golf course. As such, for non-customized golf balls, we provide our valued customers with a 30-day trial period for returns. For those who use more than one sleeve of balls, we reserve the right not to refund the purchase.
 
To start the return process, please email us at info@oncoregolf.com with your order number and email address. 
---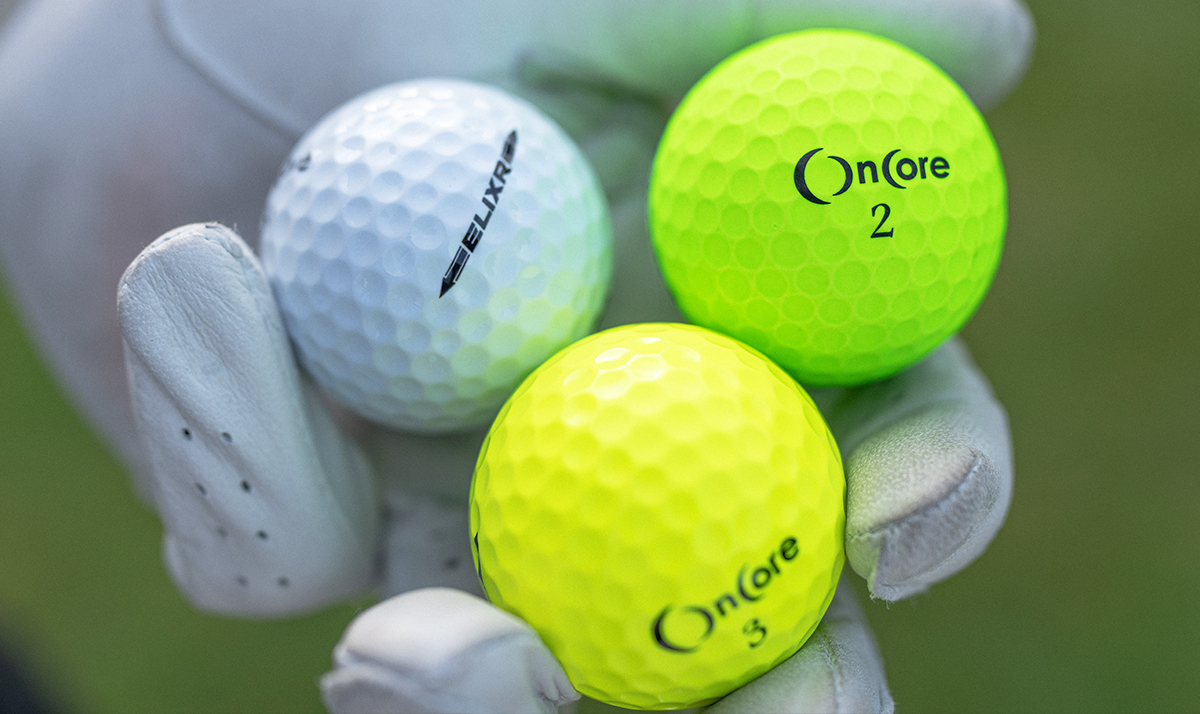 ELEVATING THE GAME OF GOLF
FOCUSED ON PERFORMANCE
OnCore Golf provides premium, high performance golf balls for all skill levels. The VERO X1 is like no other ball on the market and we are incredibly proud. The positive reviews keep coming in, and we thank our customers for all their support! Great things to come and help us continue to spread the word. Become a Better Golfer.
BALL FITTING
ONLINE BALL FITTING
Dial-in your game with the perfect ball for your swing. Which OnCore ball is best for you? Take our online ball fitting assessment and we'll recommend the right ball for you. Receive $10 OnCore Cash for your first purchase and order today!

NEW CUSTOMERS ONLY. EXCLUDES LOYALTY.