PRODUCT OVERVIEW
FEATURES & BENEFITS
TECHNOLOGY
Our proprietary perimeter-weighting technology results in lower driver spin rates, tighter dispersion, extended aerodynamic lift, and more consistent and stable flight. Experience unmatched distance-enhancing low driver spin and wind-penetrating trajectory for distance and accuracy that has to be seen to be believed.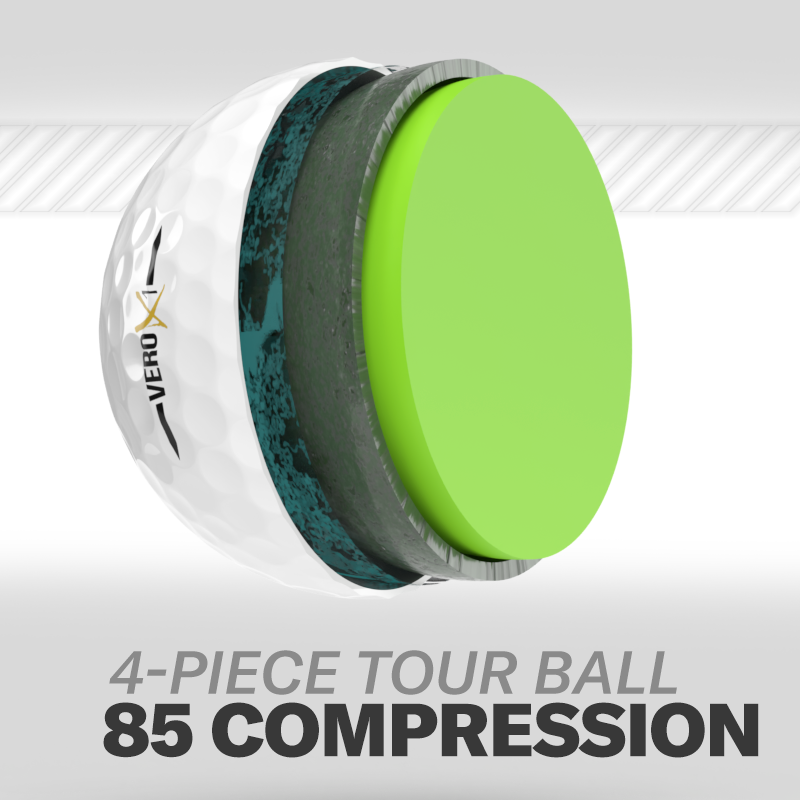 CONSTRUCTION
Our 4-piece, 85 compression tour ball has a high modulus, metal-infused mantle, and incorporates a nano-engineered transition layer to manage the interface between the mantle and our premium cast urethane cover, for control and feel unlike any other ball.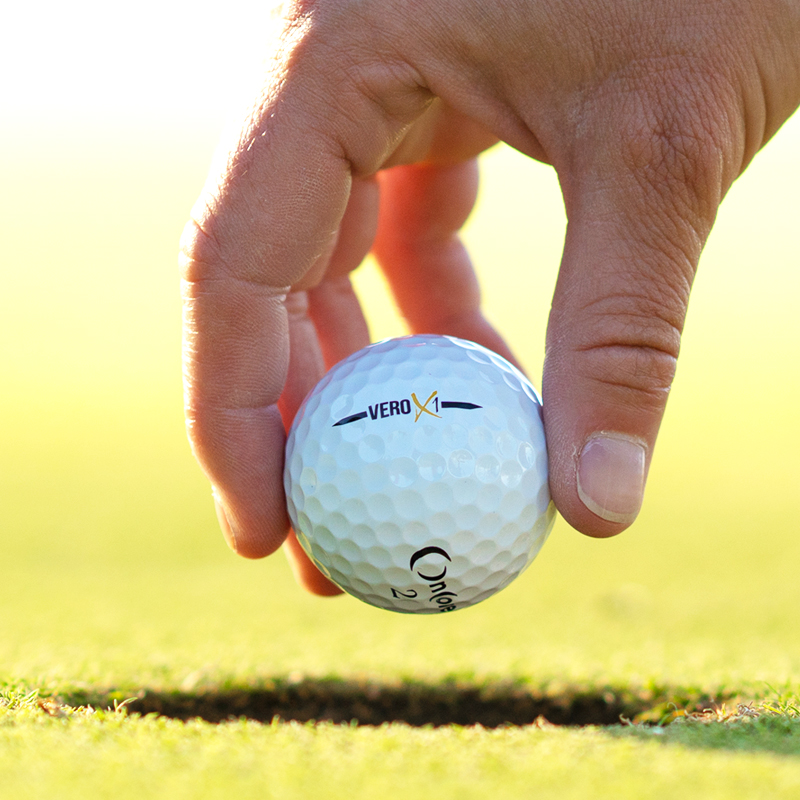 GOLFER PROFILE
The VERO X1 was built for intermediate or advanced golfers with mid-to-low handicap and driver swing speeds over 100mph. Firm off the tee and approach shots, you will experience reduced spin on drives for maximum carry, and ultimate control around the greens.
GAME PLAY
Higher launch, lower spin, greater distance and more control around the greens. These are attributes long associated with the industry's two biggest brand name golf balls, the Titleist® ProV1® and ProV1x®. Head-to-head, the VERO X1 outperformed the legendary duo in Golf EQ's driver and iron testing.
VERO X1 TOUR BALL
TRUE PERFORMANCE
Thin cast urethane cover for great responsive spin around the greens.
Large inner mantle for enhanced perimeter-weighted, high MOI design. This creates faster ball speeds with tighter shot dispersion patterns off the tee.
Thin nano-layer under the cover rounds out this 4 piece design, offering the ultimate combination of distance, feel and control.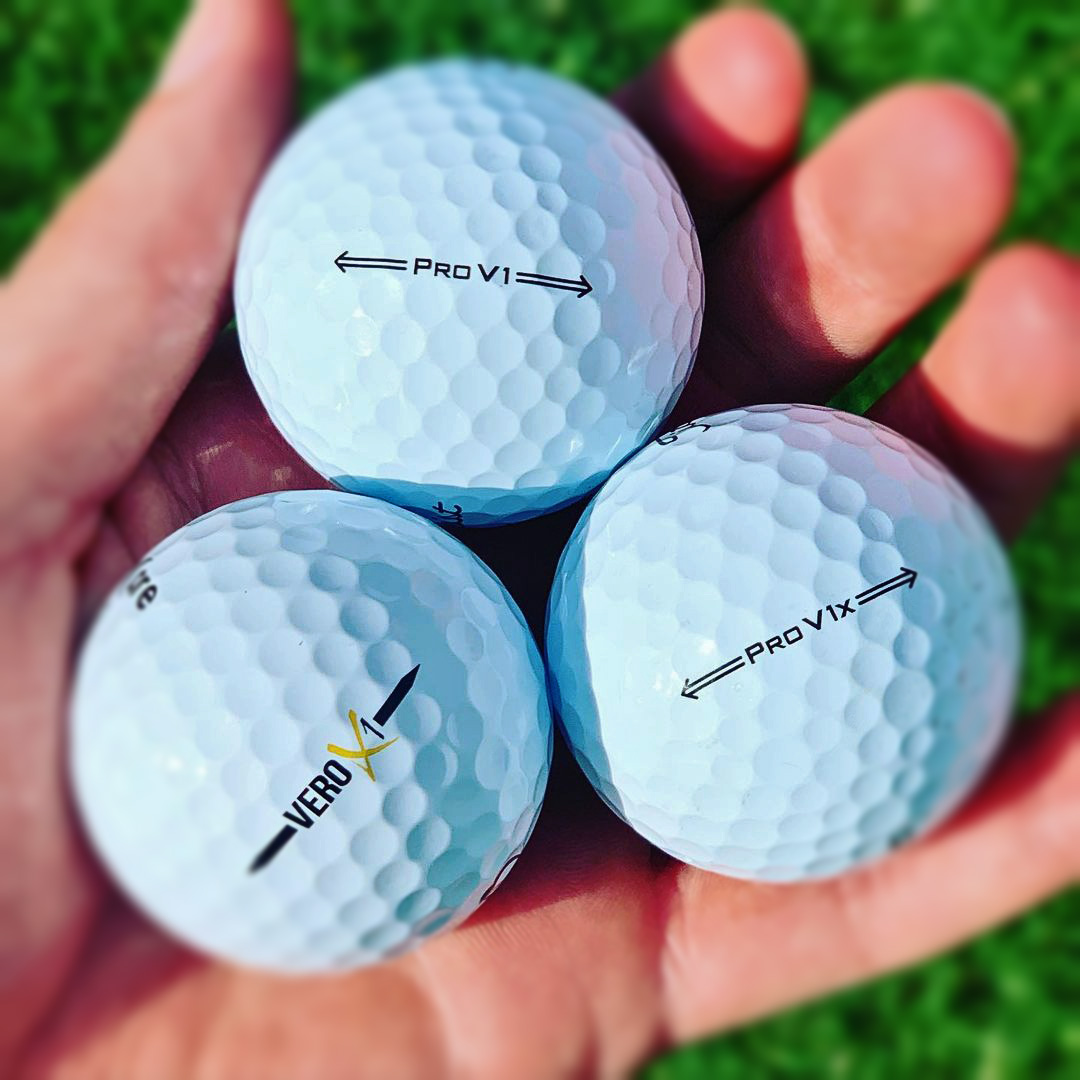 GOLF EQ INDEPENDENT TESTING
VERO X1 VS. TITLEIST®
The four-piece VERO X1 went head-to-head with both iconic balls and outperformed the dynamic duo in Golf EQ's driver and iron testing. It also finished atop the composite rankings with a total Golf EQ score of 372.68 versus 350.83 for ProV1® and 362.26 for ProV1x®.
How about that dreaded side-spin that derails so many tee shots?  The VERO X1 delivers decidedly less of it – over 60% less– resulting in significantly straighter drives.
BALL FITTING
ONLINE BALL FITTING
Dial-in your game with the perfect ball for your swing. Which OnCore ball is best for you? Take our online ball fitting assessment and we'll recommend the right ball for you. Receive $10 OnCore Cash for your first purchase and order today!

NEW CUSTOMERS ONLY. EXCLUDES LOYALTY.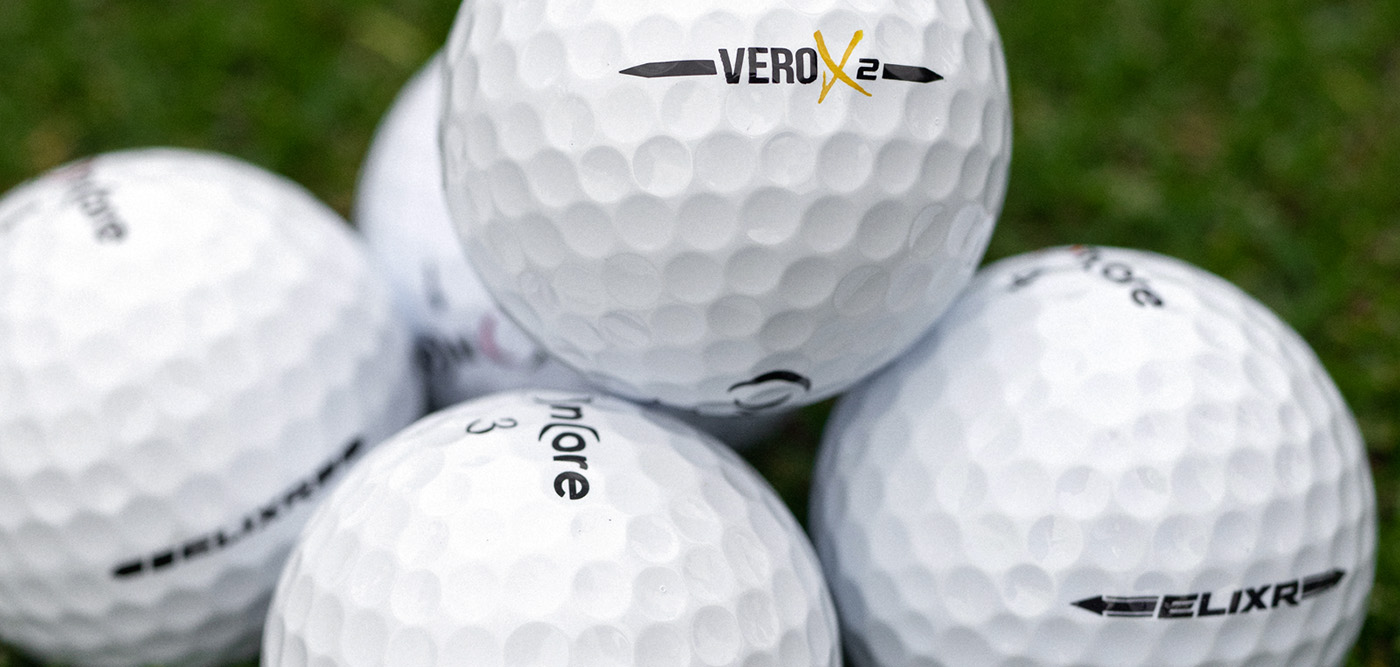 ---
COMPARE BALLS
LAYERS
COMPRESSION
COVER
DIMPLE
LAUNCH ANGLE
SWING SPEED
FEEL
DRIVER SPIN
WEDGE SPIN
LAYERS:

4-PIECE

COMPRESSION:

95

COVER:

CAST URETHANE

DIMPLE:

318

LAUNCH ANGLE:

HIGH

SWING SPEED:

100 PLUS

FEEL:

FIRMER

DRIVER SPIN:

LOWEST

WEDGE SPIN:

HIGH
LAYERS:

4-PIECE

COMPRESSION:

85

COVER:

CAST URETHANE

DIMPLE:

318

LAUNCH ANGLE:

HIGH

SWING SPEED:

100 PLUS

FEEL:

FIRM

DRIVER SPIN:

LOWER

WEDGE SPIN:

HIGH
LAYERS:

3-PIECE

COMPRESSION:

84

COVER:

URETHANE

DIMPLE:

350

LAUNCH ANGLE:

MID

SWING SPEED:

85-100

FEEL:

SOFT

DRIVER SPIN:

LOW

WEDGE SPIN:

HIGH
LAYERS:

3-PIECE

COMPRESSION:

80

COVER:

CAST URETHANE

DIMPLE:

318

LAUNCH ANGLE:

MID TO HIGH

SWING SPEED:

80-95

FEEL:

SOFT

DRIVER SPIN:

LOW

WEDGE SPIN:

HIGHER
LAYERS:

2-PIECE

COMPRESSION:

55

COVER:

SURLYN BLEND

DIMPLE:

392

LAUNCH ANGLE:

HIGH

SWING SPEED:

60-80

FEEL:

SOFTEST

DRIVER SPIN:

MID

WEDGE SPIN:

MID