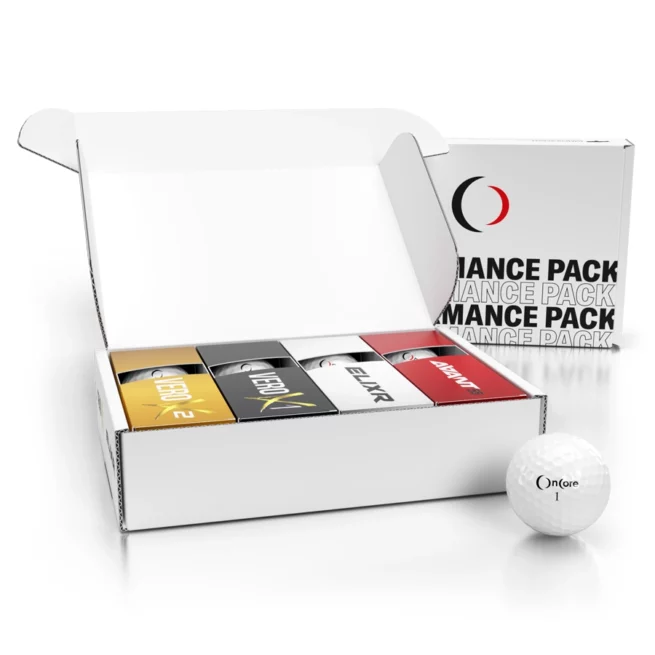 OnCore Performance Pack
The All-New 2023 OnCore Performance Pack
---
Introducing the OnCore Performance Pack. Four different high-performance golf balls. One low price. Try them all today to find the perfect ball for your game.

+++
Enjoy a sleeve of each of these award-winning, proprietary, perimeter-weighted balls:
VERO X2 – Next generation Tour ball boasting a four-piece design and higher compression than the X1 – ideal for golfers with the highest swing speeds.
VERO X1 – Flagship, four-piece Tour ball that topped Titleist Pro V1® and Pro V1x® in tests by Golf EQ with 60% less sidespin and out-drove them by 22 yards in testing by GolfMagic!
ELIXR 2022 – Our original Tour ball designed for the majority of golfers – revamped and featuring a new urethane cover, 350 dimple pattern and increased 84 compression for all-around performance.
AVANT 55 – A super soft, low compression two-piece ball ideal for golfers with slower swing speeds that delivers big results at a budget-friendly price.

GET YOUR PERFORMANCE PACK FOR JUST $35!
perform. pack
haven't tried all 4 yet but i like the Avant 55 ball, thinking i am playing the wrong ball, been playing the Elixr since they first sold, Vero X2 great on the short game.
Performance Pack A Great Way to do Individual Ball Testing
I am a long time Elixir player. I am 69 years old and carry an 7 handicap. I have for many years, been interested in trying out all the balls for the "Senior" players, wanting to find the right ball for me by actual testing, not just reading about swing speed and finding the most distance. The Performance Pack has been the best way for me to experience all the great balls in the OnCore repertoire. This past week was an opportunity to play a practice round, then a full tournament round. While still being an Elixir believer, I found the Vero x2 to actually be my preferred ball ... this week!! That was a surprise because I do not have the 105+ swing speed at my age. At any rate, my recommendation is to try them all... no matter what level you are. This company has a superior product all the way through the line, and definitely at the right price. Customer service is top notch. I will continue to be a very loyal customer! Thanks OnCore!
Used the #2 ball today and it was solid! Came off the head with a great sound!
Great ball! Haven't had time to used them all yet
What's the best ball for your game
A sleeve of each of OnCore's four balls provides an excellent opportunity to test which one actually works best for your game. They are all extremely good and quite different, so this variety pack is perfect for on the course, real world comparison.